Updating your Machine firmware
1. Please ensure your Machine is connected to the cloud server.
This can be verified by accessing the Coffee Machine page on your Mobile App. Your selected Machine should display a blue circle with the text "Connected to Cloud" (screenshot below).
The Morning Machine will display the Wi-Fi icon and also the Server Access icon on the OLED screen when connected (reference below).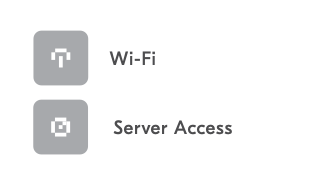 If your Machine is connected, please Pair your Machine.
1. Select "Update Firmware" on your Machine
On your Machine dial hold the "Back" and "Confirm" buttons to enter Machine Settings.
Select "Settings" and toggle to "OTA Update", click "Confirm".
Screen will display "take 2-5min, confirm?", click "Confirm"
Allow the Machine to undergo the update, Machine will automatically reset when update is completed.